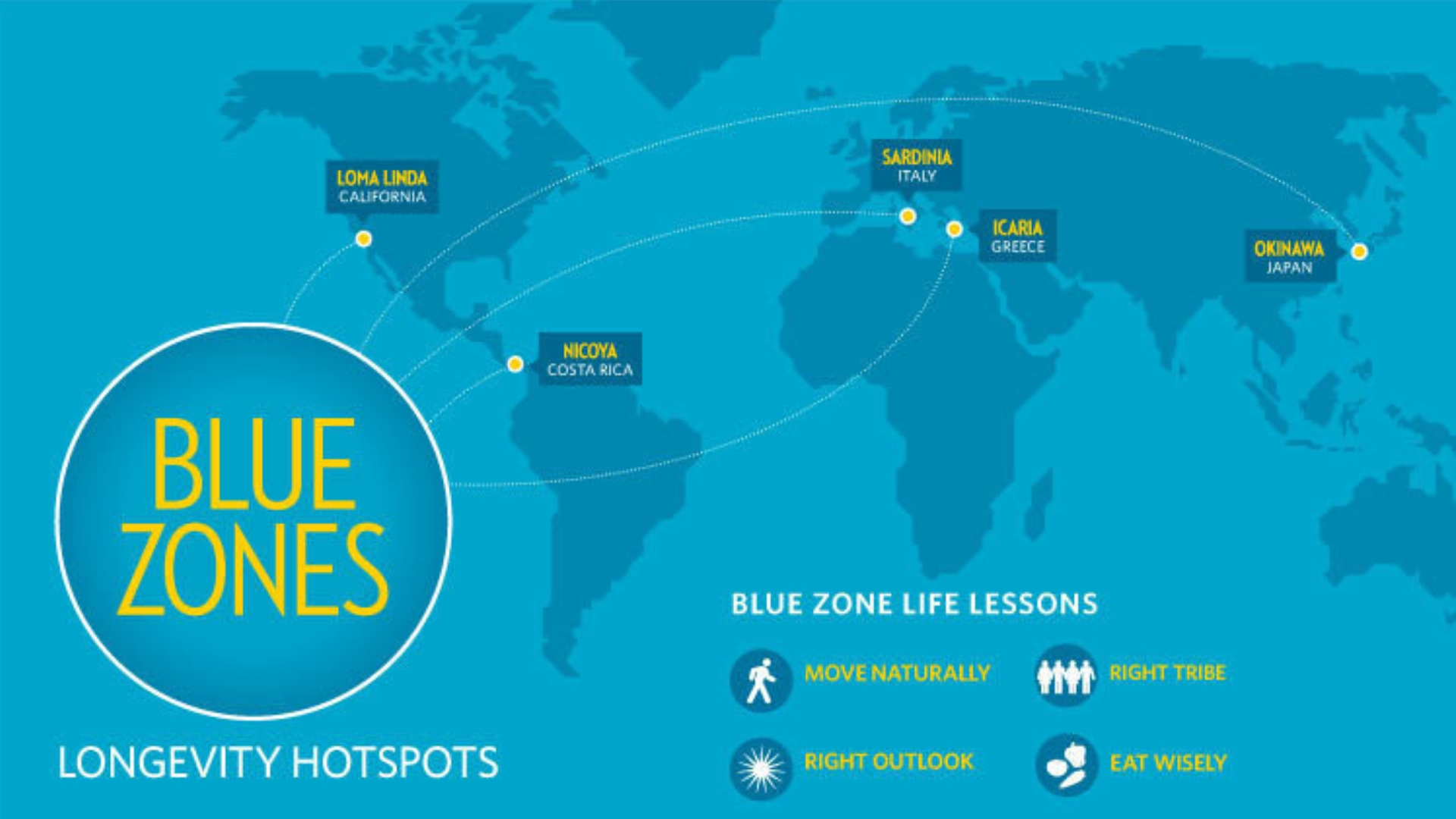 There are five areas in the world, known as Blue Zones, where residents live longer, healthier and happies lives. There has been a lot of research into why the people that inhabit these locations, which are in vary different parts of the world, enjoy their longevity. As I continue on my wellness journey learning more about the people who live in these Blue Zones and what pieces of their lifestyle I can incorporate into my own life seemed like a step in the right direction. There is a website dedicated to Blue Zones, it can be found at http://bluezones.com. On site site I found a very interesting graphic I wanted to share the nine commonalities within these zones.
It starts with four main themes – Move, as in exercise. Move naturally, don't be a couch potato or rely on a motorized vehicle to get everywhere. You also don't need to spend hundreds on a gym membership or gym equipment. How about we start by committing to walk 30 minutes twice a week and 1 hour on the weekends (or whatever combination of this works for you). That's uninterrupted walking, not throughout the day! We need to have the right outlook which combines two pieces. One is purpose – figure out why you are here and what you want to contribute. Second is Down Shift, let's stop living in fast forward. We need to take time to rest, reset, contemplate, meditate and focus. Eat Wisely begin with the 80% rule – this means you eat until you are 80% full. Eat more plants and nuts, in blue zones meat in only eater 4-5 per MONTH. That would be a large shift for me. Wine at 5, this was interesting for me to learn. "People in all blue zones (except Adventists) drink alcohol moderately and regularly.  Moderate drinkers outlive non-drinkers. The trick is to drink 1-2 glasses per day (preferably Sardinian Cannonau wine), with friends and/or with food. And no, you can't save up all week and have 14 drinks on Saturday." Finally we need to connect – Right Tribe, Loved Ones First, and Belong. Knowing that humans are meant to have connection this piece does not surprise.
As I think about how much our lifestyles have changed – longer working hours, more screen time, less family time, a rush to get from A to Z it isn't surprising that a mental health crisis exists. I strongly believe these intrinsic needs are a driving force behind the current movement to simplify, build tribes and change our working models. We need to surround ourselves with people and build support systems that drive us forward. Loved Ones First – my phrase is "Family First" and I use this when my team members call and tell me they need time off to take care of something with their family. I try to encourage my team to shut down from work on nights and weekends when they aren't on call. I also have honest conversation about where they are and where they want to be. I want to help develop people to move toward their true self! I think one of the most important things the Blue Zones show us is to be balanced. To live a life that allows each of us to bring our best forward, surround ourselves with those we love and care about, and to eat well and exercise. I believe I am attracted to learning more about the Blue Zones because they naturally flow into my teachings regarding balancing your life with a Wellness Wheel.
I took the test on the BlueZone website and here are my results:
The simple changes I need to make are in areas titled: eat more whole grains, be friendly, have faith, don't ignore any signs of depression, anxiety and stress and improve your attitude. Each section then has advice based on how you answered the quiz questions. I try my best to set my vibrational energy at the highest level possible each and every day by being and sharing positivity! I guess that is why I am the Positivity Activator!
I encourage you to take the test located at https://www.bluezones.com/live-longer-better/#section-3. Look at your results and we can chat about how we can change our lives for the better. They have books and other resources to learn more about living your life "in the Blue Zone".
Have a terrific week and Stay Blue!
the Positivity Activator – AKA Tania